Fashion Apparel, Mixing Tips and Sketches
Samantha Jonas-Rongo
I haven't met a woman who doesn't like or appreciate good fashion, but then again, fashion is in the eye of the beholder as beauty is. So ones fashion sense may not be another's pick of choice. For example, even though mixing print is trending, I rather keep my look more matching. I enjoy a more classy, patterns on minimum, soft tone colored and chic look for my wardrobe. I can put together and pull off a great outfit that is mixing and colorful, but I tend to see many mistakes that other woman make while attempting that creative trend.
 I personally don't wear too busy of clothing so I can finish making a statement with my jewelry, scarf if wearing one, and especially with my shoes, but still have space to do extra work with my hair and makeup. I like to even out my style so I won't look like a puzzle put together with 8 different puzzle's pieces. I don't want my outfit  to look disoriented and dysfunctional. Pairing together an outfit with pattern leggings can also be great, but when the whole outfit is properly pulled off. So again, be careful with the print and color.
One person I know personally comes to mind when I think of all the mixing Don'ts, along with adding too much color and brightness. When she believes she looks great, I'm on the other end thinking, "Please don't wear that again", but since her and I don't get along that great, and she had the audacity to speak upon my clothing after I had a traumatic fire that damaged all of my things except the clothes on my back, and any money I had earned from work I spent only towards my basic needs and housing, I don't mind laughing inside and joking later of her fashion failure. It may sound cruel, but trust me, she deserves it. What woman, and one who's a  mother, picks on a beautiful, talented, intelligent, achieved, and successful woman who just lost everything? Not just that, but whose priorities are straight enough to put getting a new home in a month, over living from house to house for months, buying clothing? Yes, she was the real joke. I may have not been the best dressed, but I rather have a new home, which I did in only a month.
Anyway,  I also see this individual over wearing leggings, creating almost every outfit wearing a pair, but wearing them very wrong at that. Not to be continuously picking on this gal, but her fashion sense, needs some sense. I'm actually still trying to figure out when did leggings stop being worn under skirts and dresses, or while working out or doing yoga, and becoming the next replacement for pants. Yes wearing them with a long shirt, long jacket/sweater or long button up looks great, but a t-shirt or short shirt or fleeces/ hoodie as an outfit not for working out……. NO!!! Please stop!!! Wearing leggings needs to be paired with either a dress, skirt, or shirts and jackets/sweaters whose lengths go NO HIGHER than 5-7 inches above your knees, anything shorter, must be for working out purposes ONLY!!! If wearing any shirt that's shorter than 7 inches above your knees, and especially above your buttocks, save for regular pants or jeans. Based upon a survey of 100 men, 97 agreed that woman look desperate for attention and are not one to take home to their mother all simply because of how and where they wear their leggings, ….Interesting! So when thinking it is appealing for men, it is, but not in a good way.
Now enough about leggings, I am not a fan of many bright, multi colored and mixed patterned outfits because they can be too much clash and not enough class. It screams, "I'm here, hey can you see me?, good because thats the point, and I'm trying to make a statement"…. All attention isn't good attention and how could you be missed? Imagine walking into a room where every piece of furniture was a different color and/or pattern.
Also, wearing only bright or light colors due to a lighter or darker skin tone does not change the color itself, its still the same. A soft cream orange rather than bright orange or soft pink rather than a hot pink compliments both dark and light toned complexions. Some people with paler skin don't like to wear white or cream but that doesn't mean wear all dark clothing and stay completely away from light colors. Some dark toned individuals, including a few in my family, don't wear a lot of black or purple, but that doesn't mean they go for bright. A softer color brings a softer tone. I'm tan complexioned, some may call it "honey", "yellow" or "light skinned", but it doesn't mean I'm too light for yellow, but a soft yellow is such a better compliment for any skin tone rather than a bright, obnoxious yellow. Check the photo below for example: I personally love yellow!
Don't be confused, I like mixed patterns and brighter colors, but in variation. You don't want to over do it. In my opinion, there is a such thing as having too much color and pattern in an outfit. When that is the case, or the colors are not matching, the outfit itself not only looks too busy and tacky, but also looks dysfunctional. Some may disagree, but as I said, fashion is in the eye of the beholder.
Mixing prints, much like mixing same or close colors and denims is possible, but must be done with caution. Just like mixing these pieces, it is important to note that you can't just throw any combination together, there are methods to pulling this trend off. You could either come out looking fabulous or end up looking like the neighborhoods next wacky dresser.
My Tips for Mixing/Matching print:
If you are new to wearing bold choices and crazy colours, I recommend keeping it simple. Don't go for a full head-to-toe print.
  Mix larger prints with smaller ones: A great way to remember this is to know that opposites attract. When you're mixing print using this rule you don't want to go overboard with the size of the print. Try wearing a combination of large and small print. The small print against the larger one creates a balance and gives a beautiful contrast. For example leopard print comes in different sizes; you could mix a large leopard skin print skirt or trouser with a smaller leopard skin print shirt or top. You would notice that people may not even know they are not the same because of the balancing illusion they create. A quick tip is if you decide to do this use the larger print at the bottom and the smaller print at the top. The large print tends to make parts of the body seem bigger and the smaller print makes parts look smaller. Blend prints that have the same color characteristics: Another great way to mix print is to make sure your prints have similar color  When they share one or two colors that are close or the same they look like they compliment each other. Vision automatically picks things that look alike and places them together. This way when someone takes a look at you, they see a well put together outfit instead of a bunch of mixing and matching. The common color pulls. In the photo, the yellow jacket compliments the gold on back of heel. Love that jacket! Not that warm but very chic!
In the print universe stripes are just like one toned or white apparel; it goes with almost anything. When you are mixing print, treat the striped item you are incorporating  like a neutral toned print. Stripes are the easiest to mix with prints and go great with graphics, floral prints, polka dots, geometric prints, animal prints and much more. I understand mixing theses prints might be a little scary so you could start your mixing with a simple stripe and graphic print combination. You could do this in monochrome or ensure the stripes and the graphic print have colors in common. In the photo below, added accessories to a bland outfit showcased in a magazine worn by a professional model creates an even more stylish look. Accessories….my favorite wardrobe!!!
Make sure print accessories contrast the outfit: This is print mixing 101. If you decide you want to start small by mixing printed accessories with other prints instead of going all out with the entire outfit, make sure the accessory stands out.
Use members of the same color family:
Just like having similar colors when mixing prints, you could also go all out with the same colors. Great examples of this are monochrome prints, red & black prints etc. You could wear a black & white polka dot skirt and balance that with a floral print top or a white tank and a floral print jacket. This pattern creates a great sequence that make your outfit, even though has a variation of prints, look uniform and well put together.
Accessorize Your Style:
Alternatively, you can use accessories such as shoes, belts and clutches with prints on them as your starter items before transitioning into clothing.
Pair Items Together:
Don't get worried about how they match each other but instead, what pairs well with another. Look for one common denominator that ties the entire look together such as the spectrum of colours or an accessory. You don't have to mix print garments. A print shoe will look amazing with a print bag or accessory. And remember, just because you're mixing prints doesn't mean you can't have some solid colours in the mix. A solid red belt for instance will create a fabulous focal point for any outfit.
Check out these sketches. As any good designer knows, don't expose or allow to show full detail until the product is done so these sketches are partially finished but I as well as others still like them and so I figured why not share what is done thus far.
These are really great, I hope to one day have a pair myself.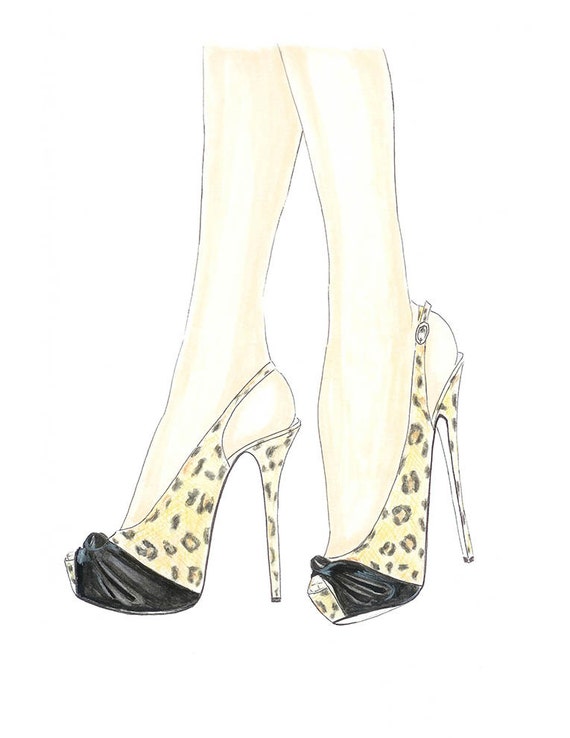 Pattern is good, just not too much
 Samantha Jonas-Rongo